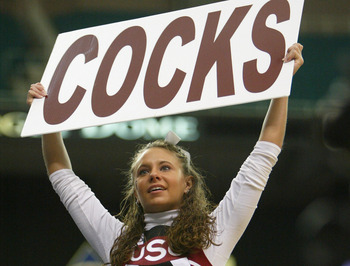 I play the role of an amused observer of the Georgia-Carolina rivalry. I moved to SC to live while I always worked daily in Georgia. (Short commute across the Savannah River.) Though I now live full-time in Georgia, OK, I'll admit right here, right now, I "vote" for the Gamecocks.
Although I was not perversely pleased to see the "Dawgs" bitch-slapped last night, I was pleased nonetheless.
I never once, even once, even for an second considered myself a Georgia fan. Though I know some fine people who are.
They are just games after all. At least to me, a California boy, never having had a real dog in the hunt.
Go Giants, fuck the Dodgers.